Trans Art Works
The sub logo "Trans Art Works" of Tanz Atelier Wien deals with interdisciplinary positions of individual protagonists/authors/artists and their manifold interfaces and contributions within the white cube of the studio. It enhances a research dialogue and functions as pivot point for variable experiments by transforming the space, thus moving it kinetically, tuning it corporeally, illuminating it emotionally and sounding it rhythmically….
The format is aimed at linking the protagonists of different disciplines both direct from the art, the science and their applied fields. Comprehensive, time-relevant topics such as dynamics, (e)motion, isolation, frequency, economy, light, deceleration, sustainability, migration, memory etc. are being investigated by means of art-based research and its performance strategy.
Trans Art Work fosters spontaneous happenings, which pay homage to real-time composition. The protagonists involved draft and implement their autonomous contributions and provoke investigative new contact points. The fragile dynamics of such happenings trigger a high degree of spontaneous tuning during the "evolution".
The initially sovereign artistic oeuvre of the protagonists undergoes radical change by condensation, abstraction and questioning, and finally mutates into a new "Gesamtkunstwerk".
---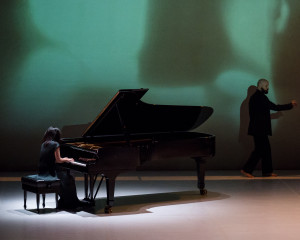 Mozart's string quintet g-minor KV 516 serves as the pivot point of a trans-disciplinary research project. The composer and performer Karlheinz Essl dismantles the classic score with self-developed computer programs into molecular particles, which he expands to ever new sound scapes. [Details…]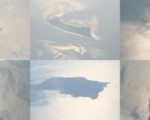 This June the project series TRANS ART WORKS of Tanz Atelier Wien presents "RIVER memory pieces" – an interdisciplinary format which links international artists and their work in the fields of music, dance and visual arts (installation). [Details…]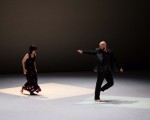 Tanz Atelier Wien in cooperation with ImPulsTanz Special
A spatial installation with Cecilia Li (piano solo), Sebastian Prantl (concept, dance) and Alexsandro Araujo Guerra (dance) with compositions by Claude Debussy and installations by Walter Kaitna [Details…]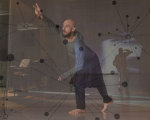 Three-dimensional power systems by Walter Kaitna become the starting point for a transdisciplinary installation, combining structural objects and images with light spaces, sound compositions and figures of movement. [Details…]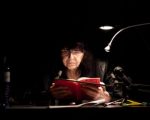 Based on textual fragments from the l atest prose volume by the great Austrian poet Friederike Mayröcker, Tanz Atelier Wien presented a performative encounter of speech, sound, light and movement, introducing its new sublogo Trans Art Works (TAW) for interdisciplinary showings. [Details…]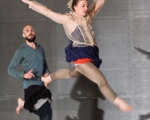 MOTION PHONOTOP, movement and sound, have been the main topic of research, labs and perfomances at Tanz Atelier Wien since the beginning of 2010. "Fusznoten …" was the season's highlight. [Details…]